Sanitary Report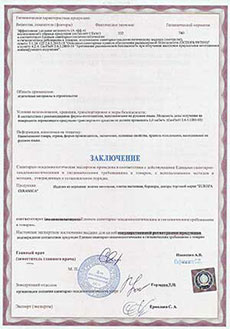 In January 2012 the Hygiene Certificate was replaced by the 'Sanitary Report'.
The Sanitary Report is often required for the following goods:
• Food and food additives
• Children's clothing
• Toys
• Machinery, technical products and technological equipment in contact with food, pharmaceutical products, drinking water and much more.
• Household chemicals
• Cosmetics
The aim of the certificate is to show compliance of the products with the Russian Federation's hygiene standards. Complying with threshold values for specific substances is a particular determining factor here.
The Sanitary Report Certificate has no expiry date. Nevertheless it may also be the case that the Sanitary Report is also issued for a specific order. In the same way it can be issued for a specific market or a product/group of products.
The Sanitary Report certificate has particular significance as it is one of the requirements for State registration.
Experience has shown that between one and four weeks are required for the certificate to be issued.