TR Fire safety certificate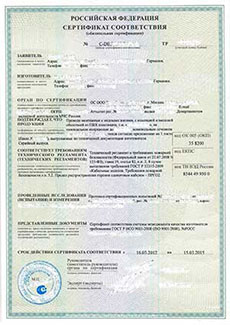 The TR fire safety certificate confirms compliance with the Customs Union's fire safety standards.
The underlying statutory provisions are:
The technical regulations for fire safety (Federal Law no. 123-FZ of 22.07.2008)
The Russian Ministry of Emergency Situations (no. 312 'Regarding the Certification System in the Field of Fire Protection in the Russian Federation' of 18.06.2003)
The aim is to classify products according to their flammability properties (for example with regard to flammability, production of toxic substances in the event of fire etc.). Where applicable, the classification can be obtained from European certificates, or product samples will need to be submitted for individual examination.
Among other things, products requiring mandatory fire safety certification include:
• Fire safety and firefighting equipment
• Selected substances and materials (insulation material, many synthetic materials, clothing, floor coverings, plastic sheeting, roofing materials etc.)
• Selected construction products (constructions products with a fire safety function, cable ducts, synthetic building materials - e.g. window profiles, smoke extractors etc.)
• Selected electronic products (cables with insulation, heating cables, refrigerators with compressors etc.)
Fire safety is predominately required by State bodies and certain public construction sites.
Certificates are issued for either the individual delivery or for five years and one series, and are issued to the manufacturer.
Experience has shown that between two and four weeks are required for a TR fire safety certificate to be issued.